SPL7013 COVID-19 nasal spray.
SPL7013 shows significant activity against SARS-CoV-2 (coronavirus)
Following the outbreak of coronavirus earlier this year, Starpharma instigated testing of its antiviral dendrimer, SPL7013.
In April, the Company reported positive results that demonstrated SPL7013 has significant antiviral activity against COVID-19 SARS-CoV-2 (coronavirus) at clinically relevant concentrations. Starpharma moved quickly to commence development of a SPL7013 COVID-19 nasal spray. This novel product has the potential to prevent acquisition and transmission of SARS-CoV-2, and to complement vaccine-based prevention strategies.
Such a preventative product would provide an additional line of defence (in addition to conventional PPE and vaccines) including for those in the frontline of this crisis, such as doctors, nurses and other essential workers and in crowded and high-risk environments, such as public transport and aged care.
A key advantage of this product is that SPL7013 is the functional component in Starpharma's range of marketed VivaGel® products (VivaGel® BV and the VivaGel® condom), which are already approved and marketed in the UK, Europe, Asia, Canada, Australia, and New Zealand, and which are already manufactured at industrial scale.
Starpharma has undertaken extensive development activities for the SPL7013 nasal spray. To date, SPL7013 has been reformulated into several nasal spray formulations, the company has identified a manufacturer and device components, undertaken pilot manufacture, and compiled regulatory documentation in preparation for submission. Based on discussions with regulators, the company expects to be able to expedite approval of a SPL7013 nasal spray by leveraging existing nonclinical and clinical data of Starpharma's currently approved and marketed products.
The antiviral data have also been submitted to a peer reviewed scientific journal for publication and a preprint of the manuscript is now available on bioRχiv.[1] The SPL7013 active is patented by Starpharma and a specific patent application has been filed for the COVID-19 nasal spray. Starpharma has also commenced commercialisation discussions, having shared product details and supporting technical data with a number of interested parties.
Given SPL7013 has broad spectrum antiviral activity, Starpharma is also exploring applications to other respiratory viruses and for future pandemic preparedness, and additionally different routes of administration e.g. nebulised/inhaled and ocular.
Mechanism of action
SPL7013 works by blocking the interaction between viral spike proteins and the human cell proteins. As for other viruses inhibited by SPL7013, SARS-CoV-2 infects human cells by using the characteristic viral spike proteins to attach to proteins on the surface of human cells. SPL7013 acts by blocking the interaction between the viral "spikes" and the human cell the virus is seeking to infect.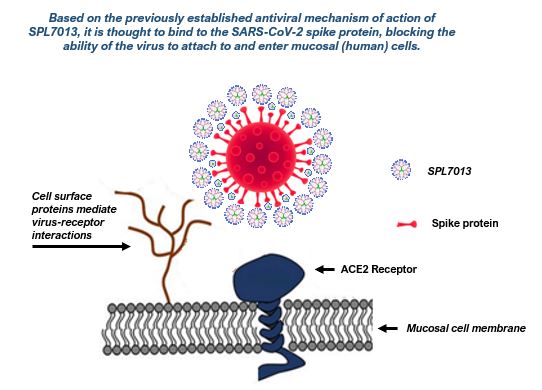 Download full announcement: SPL7013 COVID-19 nasal spray virucidal against SARS-CoV-2 (PDF 183kb) – 14 September 2020
Download full announcement: SPL7013 nasal spray for COVID-19 – development update (PDF 267kb) – 25 August 2020
Download ASX Announcement: SPL7013 shows significant activity against SARS-CoV-2 (coronavirus) (pdf file, 69kb) – 15 April 2020
[1] bioRχiv (pronounced "bio-archive") is a preprint website for biology to allow early access to scientific manuscripts operated by Cold Spring Harbor Laboratory in the US.