Oct 09, 2017
Starpharma and Peter Mac Cancer Centre awarded DEP® Grant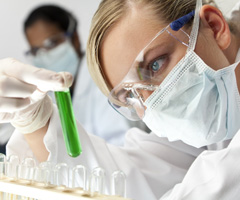 Melbourne, Australia; 9 October 2017: Starpharma (ASX: SPL, OTCQX: SPHRY) and Peter MacCallum Cancer Centre (Peter Mac) have been awarded a further Federal Government Innovation Connections grant to support innovative research within Starpharma's DEP® oncology program.
Starpharma's proprietary DEP® dendrimer platform improves efficacy and reduces off-target toxicity to improve therapeutic outcomes for cancer patients. Oncology therapeutic agents are commonly used in combination to achieve optimal impact on cancer cells. This $50,000 of funding will be used to assess sophisticated new and existing DEP® candidates in combination with existing therapeutic agents.
Starpharma CEO, Dr Jackie Fairley, commented "Peter MacCallum Cancer Centre has been an outstanding long-time collaborator for Starpharma and we are delighted to continue our work with Dr Carleen Cullinane and her expert team in translational research. This work could generate important data aimed at improving treatment regimens and further enhances commercialisation opportunities for Starpharma's DEP® technology. This Federal Government funding helps to build critical partnerships between commercial enterprises and the research sector."
Dr Carleen Cullinane, Co-Head of Peter Mac's Translational Research Lab said, "We are enthusiastic to work with Starpharma to develop DEP® dendrimer drug delivery combinations. The Innovation Connections grant program is supporting exciting innovative technology to have the greatest patient impact."
About the Innovation Connections program
The Federal Government's Innovation Connections program provides small and medium sized businesses with support to collaborate with the research sector in developing new ideas with commercial potential.
About Peter MacCallum Cancer Centre
Peter Mac is one of the world's leading cancer research, education and treatment centers globally and is Australia's only public hospital solely dedicated to caring for people affected by cancer. Peter Mac is focused on providing better treatments, better care and potential cures for cancer. Peter Mac's comprehensive and internationally renowned cancer laboratories seek fundamental biological and biomedical discoveries, and aim to facilitate the development and application of these discoveries to their full therapeutic potential.
Download ASX announcement: Starpharma and Peter Mac Cancer Centre awarded DEP® Grant (pdf file, 59kb)
This contains certain forward-looking statements.
---