Aug 28, 2017
Starpharma annual report and full year financial results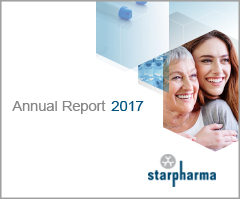 Melbourne, Australia; 28 August 2017: Starpharma (ASX: SPL, OTCQX: SPHRY) today released its annual report and financial results for the year ended 30 June 2017.
Financial Results
Cash position at 30 June of $61.2M
Net proceeds from sale of agrochemicals business to Agrium Inc. of $33.3M
Operating and investing cash inflows of $15.7M
Net cash burn (excluding net proceeds of agrochemicals sale) of $18.0M[1]
Reported profit of $8.2M
Reported gain from sale of agrochemicals business of $24.7M
Loss from continuing operations of $15.2M
Total revenue and other income of $3.6M, including the $2.6M DEP® milestone from AstraZeneca
Receipt of previously reported $3.5M R&D tax incentive during the year
Operational Highlights
Corporate
Sale of agrochemicals business to Agrium Inc. for $35 million in cash consideration.
VivaGel® Portfolio
VivaGel® BV demonstrated compelling efficacy in the pivotal phase 3 trials for prevention of recurrent BV;
VivaGel® BV granted Qualified Infectious Disease Product (QIDP) designation and Fast Track status by the US FDA;
VivaGel® condom launched in Canada by Ansell under the Lifestyles® Dual ProtectTM brand; and
License and supply agreement signed with Shenyang Sky and Land Latex Co., a major provider of condoms to the Chinese Government.
DEP® Drug Delivery Platform
AstraZeneca DEP® oncology candidate achieved final preclinical milestone prior to advancing to clinical trials for which Starpharma received a A$2.6 million milestone payment;
AstraZeneca initiated an additional new DEP® program, separate to the existing multiproduct DEP® license;
DEP® docetaxel continues to show promising efficacy signals, with no neutropenia reported, near completion of final expansion stage of the phase 1 trial with an adaptive design planned to facilitate rapid phase 2 commencement;
Final preclinical studies completed for DEP® cabazitaxel with preparations for phase 1 trial well advanced;
DEP® irinotecan significantly outperformed Camptosar® in several human colon cancer models;
Commissioning of in-house DEP® scale-up facilities enabling faster manufacture of DEP® material for clinical studies; and
Two new DEP® partnerships signed with world-leading antibody drug conjugate companies.
Commenting on the 2017 financial year's achievements and outlook, Starpharma CEO, Dr Jackie Fairley, said:
"FY17 has been a significant year for achieving milestones which will transform the future of Starpharma, including the receipt of $35 million cash on the sale of our agrochemicals business. The recently reported positive results of the phase 3 clinical trials for VivaGel® BV for the prevention of rBV support our planned new drug application (NDA) with the US FDA, for both the treatment and prevention of rBV indications. We expect to submit the NDA in the second half of the calendar year, in parallel with our active negotiations with potential commercialisation partners for the US and elsewhere."
"In the VivaGel® portfolio more broadly, we expect to see further regulatory approvals and launches in the coming year, building upon our existing deals."
"In the DEP® portfolio, the triggering and receipt of the final preclinical US$2 million milestone from our multiproduct DEP® license with AstraZeneca was very pleasing. To be involved in the development of this impressive novel oncology agent with such significant market potential is really exciting."
"The commercial validation of the DEP® platform continues to grow. The mounting preclinical and clinical data from both our internal and partnered DEP® programs are compelling in demonstrating such reproducible benefits in efficacy and tolerability, and illustrate the optionality of our DEP® platform. This, together with our $61.2 million cash balance, places Starpharma in a very strong position as we accelerate multiple internal DEP® candidates, such as DEP® cabazitaxel and DEP® irinotecan, into the clinic", concluded Dr Fairley.
---
[1] Net cash burn is considered a non-IFRS value and has not been audited in accordance with Australian Accounting Standards. Net cash burn is calculated by the movement in cash and cash equivalents from 30 June 2016 to 30 June 2017, excluding the $33.3 million of net proceeds from the sale of Starpharma's agrochemicals business.
This contains certain forward-looking statements.
---